Quinoa may be something you don't yet know how to use. I know when I first went vegan and experimented with quinoa, I was yet to figure out what to make of it. This was of course, way before I came up with this veggie chickpea quinoa recipe.
One of the first times I tried quinoa was when it was mixed with rice in some type of restaurant; I think it was harvester; didn't really do it justice and show me how nice quinoa really is. After lots of experimentation, I came up with a chickpea veggie quinoa recipe that really hits the spot.
What do you need for this dish?
Quinoa
Broccoli
Chickpeas
Green peas
Red onion
Stock
Smoked paprika
Garlic powder
Black pepper
This is a very simple recipe, is filling and bound to impress any sceptic. This chickpea veg quinoa is high in protein, iron, zinc and a whole range of nutrients.
Quinoa is a great example of a complete plant-based protein, making it perfect for a post-workout meal.
What pairs well with this?
This quinoa pairs well with other mediterrainean favourites such as falafels; salad dishes such as our greek salad recipe, and even our homemade hummus; Don't be afraid to get creative, experiment and see what you like!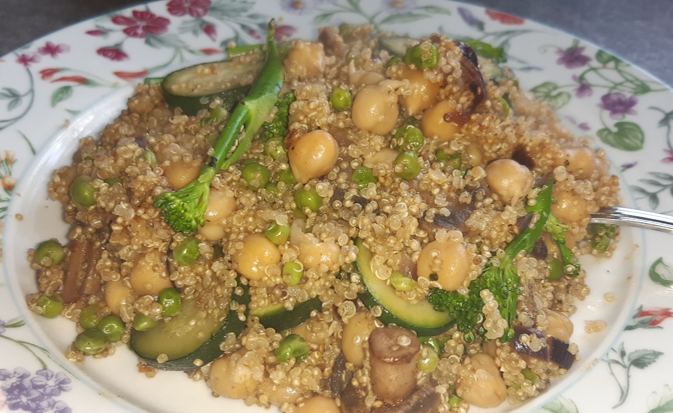 Pairing well with a simple salad, a side of soup, or some roasted veg such as sweet potato, regular roast potatoes, or butternut squash.
If you like this chickpea veggie quinoa recipe, you may want to try our other quinoa recipes:
Red lentil sundried tomato recipe
Try our veggie chickpea quinoa recipe on for size today, you won't be disappointed. Bookmark, comment and share our recipe and don't forget to hashtag #veganisingit if you repost us, stay blessed!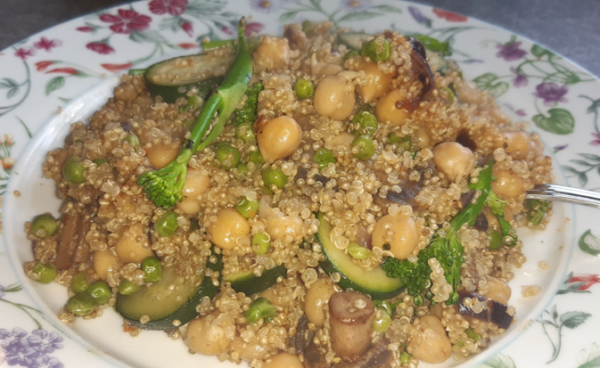 | | |
| --- | --- |
| | |
Rinse quinoa well to remove excess starch, set aside.

Bring water to a boil, dissolve veg stock cube into 2 cups of hot water in a saucepan, bring to a boil, add drained quinoa and frozen peas, bring to a gentle boil, cover and simmer for 15-20 minutes or until quinoa is cooked through.

While quinoa is cooking, wash long stem broccoli and chop thinly, finely dice red onion and set aside.

Drain a can of chickpeas into a sieve and rinse well, set aside.

Heat oil in a frying pan or wok and add red onions, cook for 3-5 minutes or until soft and fragrant.

Add broccoli and cook for a further 3-5 minutes, adding in garlic powder, smoked paprika and a crack of black pepper.

Add cooked quinoa to the veggies and stir fry for a further 3 minutes, this should help cook the remaining veggies accordingly.

Taste and adjust salt quantities if needed, serve and enjoy!