I know what you're thinking: Vegan? Chicken? Alfredo? Yes, it's possible. With this veganised chick'n Alfredo giving you a taste of memory lane, all while being completely vegan!
Chick'n Alfredo is one of those childhood favourites; along with other similar creamy pasta dishes such as carbonara, mushroom Alfredo, and even stovetop Mac and cheese.
The most difficult part, believe it or not, was finding the ideal vegan chicken substitute. A lot of supermarkets sell chicken-like products that don't quite cut it.
Some of them contain egg and other animal-based ingredients, some are just plain boring – Be sure to find your ideal shredded or chicken chunk substitute to get the best possible results.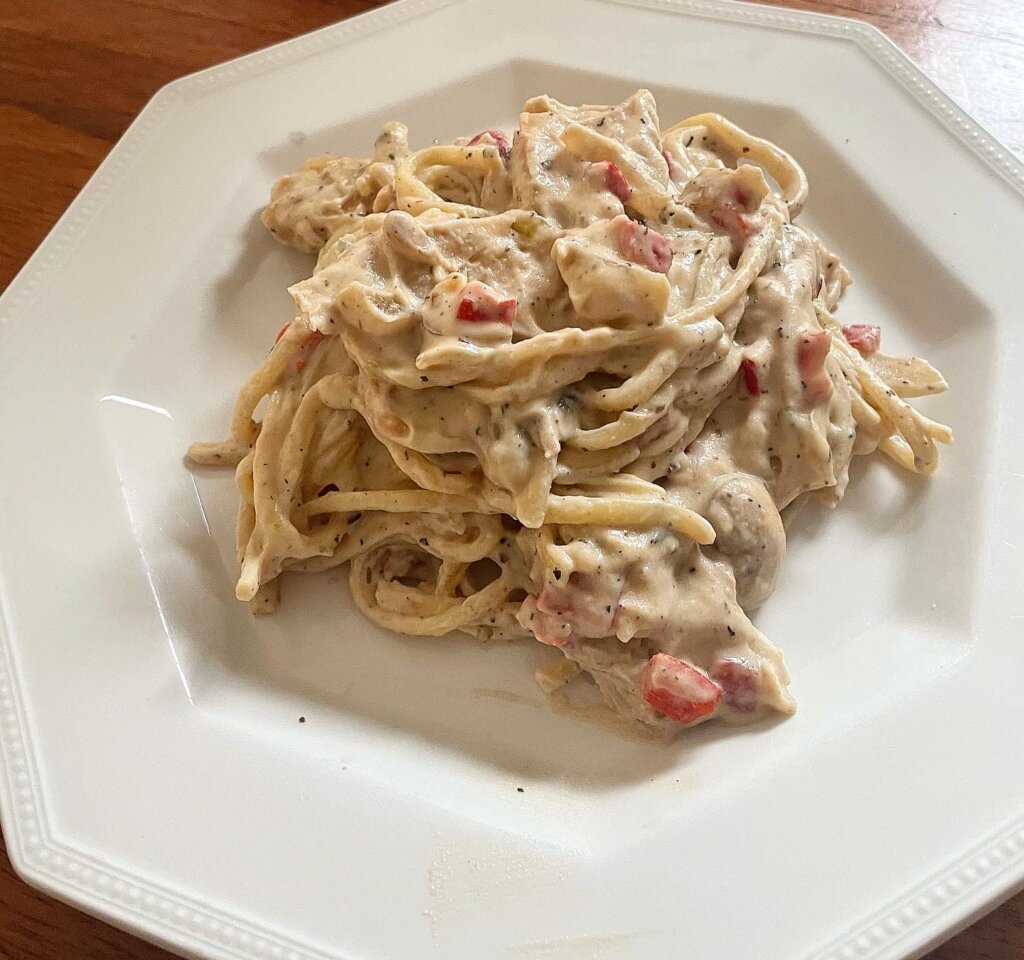 How do you veganise chicken Alfredo?
It's rather easy to veganise chicken Alfredo. You've just got to replace the cream with cashews and chicken with a vegan alternative. The "chicken" of choice was this dutch supermarket branded version, hits different!
I personally prefer a vegan chicken with a soy or pea protein base, as opposed to a seitan one. However, this is my personal preference, should you prefer other options by all means, choose them!
This veganised chicken Alfredo recipe is a perfect mid-week meal, kid-friendly, and guaranteed to impress at any vegan-friendly potluck.
Be sure to bookmark this recipe if you loved it, share with a friend, and drop a comment with which vegan chicken brand you chose today!
Thanks for considering veganising it for your recipe inspiration. Feel free to come again, we regularly update the site with new recipes. Stay blessed, and have a great day.
Passive Time

1

hour 25 mins
Passive Time

1

hour 25 mins
Soak cashews in hot water for 30 minutes to an hour.

Once soaked, drain, then transfer to a blender, adding lemon juice, garlic, notch, oregano, vegan milk, salt and pepper.

Blend until smooth, real smooth. It should be a thick and creamy consistency.

Slice vegan chicken into bite sized pieces (if not done already) and cook with some oil, salt and pepper according to package instructions, for about 5-7 minutes, set aside.

Cook pasta to package instructions, with a hint of salt in the water. Drain well once cooked.

Combine Alfredo sauce with the cooked vegan chicken, then add to the pasta. Coat the pasta evenly with the sauce using tongs or a pasta spoon.

Leave to set in for 5-10 minutes, then serve and enjoy!