Sweetcorn fritters are something I vaguely remember as a child.
My mother used to make these with egg and milk, but recently I noticed it took little to no effort to veganise them.
These vegan sweetcorn fritters are crispy, sweet and tasty. A perfect snack or side dish to enjoy hot or cold; on the side of lunch or on their own.
How do you veganise sweetcorn fritters?
Typically, people use egg as a binder of sorts when making sweetcorn fritters.
In this case with our vegan version we avoid that by combining flour with gram flour, and a little bit of baking powder, to make the perfect batter.
What pairs well with them?
Sweetcorn fritters pair well with main dishes such as curries. They also pair well with stews like our lentil or mung bean stew.
With other sides like fries and avocado salad, or even on their own with sweet chilli sauce.
We hope you enjoy this vegan sweetcorn fritter recipe.
It's a hearty, kid friendly, gorgeous concoction of ingredients to use up that spare sweetcorn in your pantry.
If you love this recipe, be sure to bookmark it for future reference. Drop a comment with what you had it with, and share with a friend or loved one!
Thanks for choosing Veganising it for your recipe inspiration.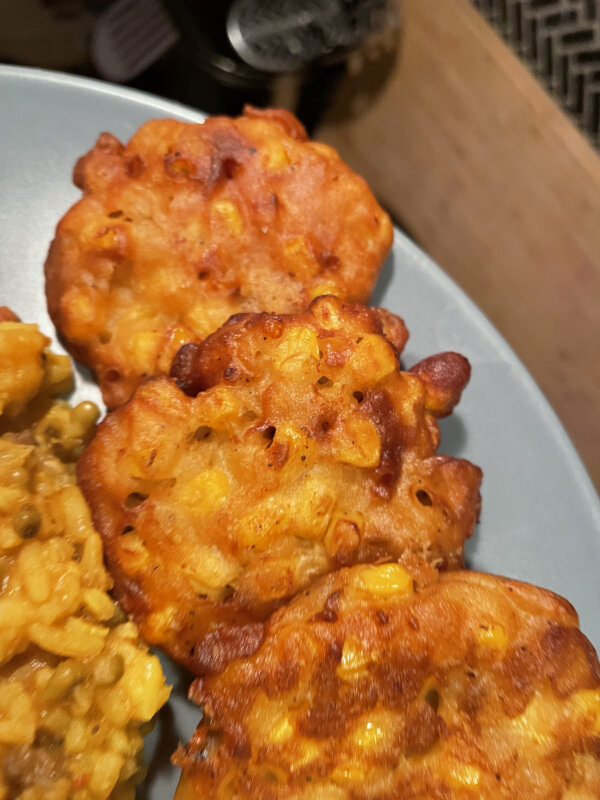 Passive Time

25-30

Minutes
Passive Time

25-30

Minutes
Start by draining off your sweetcorn and transferring to a bowl, if you're using frozen sweetcorn, boil it first according to package instructions.

In a mixing bowl, add gram flour, regular flour, baking, garlic & onion powder, Italian herbs and chilli. Combine with a whisk, then sprinkle in salt & pepper.

On a chopping board, thinly slice onion then cut into small cubes, wipe your tears and set aside.

Add vegan milk to the mixing bowl and combine well with the flour mix to form a batter. Get rid of extra lumps using a whisk.

Add onion and sweetcorn to the mix and combine well, to get an even distribution of sweetcorn throughout.

Heat oil on a small-medium pan, it should be around 2cm deep. Once sizzling, spoon in the fritter mixture with a tablespoon, and slightly flatten to form shape.

The ideal size is a heaped tablespoon. Repeat until the pan is full, leaving a cm or so of space between each fritter.

Cook fritters for around 3 minutes on a medium heat and flip, cooking for another 3-5 minutes before transferring to drain, or a plate lined with kitchen towel in my case.

Repeat the process for the rest of the fritters, then serve with your favourite mains or complementary sides. Enjoy!